Jun 26, 2008
From The Archives
Current mood:
accomplished
Day 1:

Day One consisted of us scrambling to pack everything, turning around 3 times (before we got on the freeway at least,) Still managing to forget half the food and snacks we bought, and the long drive out to West Yellowstone.
We only had to fill up once, and as Landis went to pay and pee I washed the windshield. I seriously had to remove a solid Monarch Butterfly that was wedged in the wipers… ew.

Arrive at the hotel, actually really really nice. Hang out with the family, and proceed to try to sleep. Failed. At least the beds were better than the cabin we got last year, hehe.

Day 2:

Day two was our first day inside the park. We all jumped into the car and headed in. Saw lots of bison and cute baby calf's.
Lots of elk. upon viewing a herd of elk, as we tried to get back into the car my dad drove off. At first we thought he was being a dick. Nope. He spotted a wolf. My first actual real live wolf that was not in the confines on a cage. Yes dear readers, this is what was in image 1 of the teaser blog.
Do you see it?

How bout now?

Some scenery along the way…

Keplar Cascades. Look how swollen they are.

My moms entire mission this trip was to see wild animals, and well, mission accomplished. More to come on that. Unfortunately the best place to see animals was closed due to heavy snow (Dunraven pass) So we had to do the long way around and back on all of our excursions. oi. So we head towards the Lamar Valley, by way of Mammoth. Have a quick stop at Artists Paint Pots. Somewhere I have never been before. And I know why. There is a 1/3rd mile walk just to get to the trail of the geothermal activity. So okay, cool trail lots of interesting things to see, plenty of color, can see why it was named so.

While on the trail we arrive to a part that has 2 large mud pots hat are a splurtin. There is a small walk up to get a better view behind the hill still definitely on the trail. We are looking at the pots, and it has been raining when I notice a puddle in the trail is bubbling. I didn't take the time to check the temperature but it looked to me a new hotspot opened up in the trail. I just knew enough to keep my distance from this puddle.
here is the image I took. I wanted to inform a ranger but never really ran across one. Upon our return I found this news article.

and Yellowstone's article on it:

after some digging I determined she fell into the precise opening I observed. Now two things here. 1) not to be disrespectful, but uhm, I donno how many visitors before and after me, and me, may or may not have noticed this and kept their distance. She comes in, mistakes it for rain water and steps in it... it was BUBBLING. 2) How come no ranger ever noticed this? It was a very unfortunate accident and even though she didn't notice what I did and take precautions, my heart goes out to her and I hope she makes a speedy recovery. Interesting and heart-wrenching side-note I learned that she had to walk down this huge hill, and back the 1/3rd mile trail to the parking lot to get medical attention. Sad. But strong woman.

Moving on we continued on to Mammoth. Passed Roaring Mountain:

We got to Mammoth My parents did not intend to stop but we all needed different and combined things. Bathroom, food, stretch. My brother Ed had never been to Mammoth before... due to my parents huge dis-interest. We were just going to drive through but I recommended we hit the drive through portion of Mammoth. Edward starting getting all excited so I said to stop at the trail head to Canary Springs, which to my knowledge is the most active part, and is not a long trail. Ed loved it. The new born spring I mentioned last year, is bigger, taller. It grew at least an inch.

Here is last years image...

And this years.

Again I will state it Give it 30 years and this will be the thing to observe at Mammoth.
After that we hit a bathroom break and saw this lone buffalo chilling in the grass.
meh. Due to the pass ahead being closed, we decided we would scope out the food, expecting it to be really expensive. In fact the year before when we were here we were hungry but we skipped Mammoth and went to Canyon instead thinking it would be cheaper to eat there. Well, surprise surprise. Mammoth Grill, is decidedly the cheapest place to eat in the park. Most other places it is 7 plus per person to eat. One person can eat here for 5 bucks or less. Learn something new every trip. And readers, I tell you, this was not the last new thing I learned. I also noticed some new artwork I have to desperately find, I am completely obsessed with the portraits they had in this restaurant, and IF I find them, I will proudly display them in my home. They were old 1800's black and white images, taken of people in their 1800's garb, posing ON the terraces. (quite illegal these days) I don't know, something about the black and white, the old dress, and the fact they are posing where no one can pose today, and it is very cool photography. I want it. I will have it one day. I will.

Moving on. We went down toward Dunraven as far as we could, which was to Tower Falls. On the way we saw plenty of elk:

New enough Antelope: And a huge jam near Petrified tree proved there was a grizzly: (too far to see its one of those dots up there, Not even bothering to upload the image. I did see it in the binoculars and wow it climbed that mountain fast. Also in the area we found this moose:
After some time here, hoping the grizzly would come down, we went on down the road and found this huge jam... amazingly enough a good jam.
We found this (yes readers, image 2 of the teaser but there's more!)
Black Bear and her cubs. LOOK HOW CUTE THEY IS!!!!! For your viewing pleasure I have created the following animated images of the baby cubs...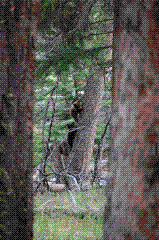 awwwww. We continued to the road closure at Tower. The water is so fast the rock that normally splits the falls, was not doing so.
On the way back (had to go back the same way due to road closures) we saw plenty more elk, deer, and buffalo.
Look how silly it looks when you capture a still of it running, LOL

We had a very fulfilling day of animal viewing today. How better to end it, then spend an hour in a warm hot tub, and then a nice game of poker.
Odie and Dad playing poker.

Stay Tuned for oh, probably 2 or maybe 3 more posts.