There are parts of the world I have been to, that I don't know what they look like outside my camera's viewfinder.
Wednesday, March 18, 2009
Posted by

Random Rambler
at 12:00 AM
No comments:


Tuesday, March 17, 2009

Current mood:
sore
Category: Travel and Places
From The Archives
Every year in Utah we go through what I like to dub the Spring Teaser Phase. I.e. we go a few days were it looks and feels like spring, and then go back to winter for a few days, back and forth like this until eventually spring really kicks into gear. Then we have the Winter Just Won't Let It Go Phase and will have a few days of winter interrupt my precious spring.

When these teaser phases last more than a few days I start getting an itch to go hiking. Mostly because I've been cooped up all winter long and want some fucking nature. I learned last year that I can't go up into the mountains this early. Yes the snow is still over your heads up there this time of year… So I have been looking for lower valley nature trails to enjoy.

Last weekend we decided to venture over to Antelope Island for a fun filled day of hiking and enjoying some scenery. The fist thing that struck me is I really had no idea how far the Great Salt Lake (now to be referred to as GSL) is. It's a lot further from the freeway than I had anticipated. Next came the entrance fee to the park, a whole 9 bucks per car just to get onto the Island. I know most of it is paying for the causeway they built, but yeesh.

As far as I know I have only ever been out to Antelope Island once when I was younger. And honestly I couldn't tell you if I stepped foot on it or not. SO first things first; a stop at the visitor center. What is Antelope Island most famous for? Buffalo. Seriously, it's called Antelope Island but this transplanted herd took all the fame and glory of this little island. Being as this is the islands claim to fame guess what we saw in various parts of the island.

You guessed it, those weird random Buffalo statues that started popping up all over Utah during the Olympics. This one, residing outside the visitor's center, is actually kind of cool and opened up an artistic opportunity.

One of the many, many shots I took of the lake. But I like the way this one looks. This was taken from the north end of the visitor's center. Inside we glanced through the exhibits, look at the aquarium filled with the only species that thrives in the waters of the GSL; Brine Shrimp.

I bought me a souvenir and inquired if there were any limitations as to where I could go on the island. Good thing to know that the north tip is free range, but once you past the fence you must stay on the trails. Okay I can deal with that. The next thing that I HAD to do was see if I could see Salt Lake City from the island. Off to the southern end where the Oldest Ranch in Utah happens to be. By the time we got out there they were closed, and very rudely informed us of this. So I don't have much to say about this place. Here is a picture I took though.

Also shown in this picture are some of the only trees we saw here. It was strange, the absence of trees. I am pretty sure these are not naturally occurring trees here. I think they were brought in.

So back the way we came to enjoy the public use lands. Driving back we came across a spring and possibly more non native trees, but I think these may actually be naturally occurring here, I mean it was the only source of Fresh Water I saw on the island.

Continuing down the road in one of the pullouts I finally found what I was looking for. A view of Salt Lake City with, why The Great Salt Lake visible.

Depth perception is such an amazing thing isn't it? By the looks of this picture You would think Down Town was on lake front property. Locals know better though.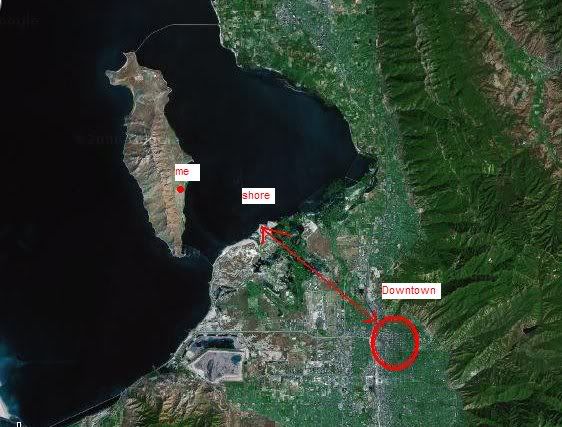 Here you can see the approximate boarders of downtown SLC as compared to the lake shore (at high water levels I might add) approximately 10 miles or so. Now the water level is so low, I believe Antelope Island can properly be called a peninsula. As shown in this picture.

This was taken further south down the island, but it is so not the shot I was looking for, it just goes with my current point.

Some buffalo chillin on the shore.

This is called Egg Island. I read somewhere it is a major nesting ground for Seagulls and other birds. You wouldn't believe the cacophony emanating from this place. This is at the end of Lady Finger Point, a very short trail (0.25 miles one way) at the northern tip of the island, but lots of rocks and boulders to climb around.

Here is Landis carrying my tripod that I never used on this trail hehe. I don't think he knew I took this picture, but look how sexy he is.

A flock of seagulls over the lake.
.
Here are the rocks we had to clamber over to get to the end of the trail. The rocks here are crazy. Some areas they are just everywhere appearing that it rained rocks one day. I read that the rocks on this island are some of the oldest in Utah, even older than those found at the bottom of the Grand Canyon! Looking back through my images I was kind of surprised at the lack of images of the island. I guess I was more interested in the views from the island.

Finally an Antelope.

A seagull on a beach house. I am including this picture because it is the best image I have of the beach on Bridger Bay. This, this is crazy. The sand here is just like a beach you would see in California. The sand is so soft and amazing, I really was ready to take off my shoes and run down to the shore. But I was more interested in hiking this day.

White Rock Bay. When I saw the title of this bay I expected a crazy white bay with sheer cliffs of white stone. No, the white rock it is referring to is the little boulder in the lake (to the right of this picture)

White Rock Bay as seen from Buffalo Point. (Now do you see the white rock?) Going through the 140 odd pictures I took of this island I was overall disappointed in the quality. I attribute this mostly due to early spring haze, and a storm that appeared to be brewing of to the north. However, this picture I think is stunning. It looks so surreal, like the landscapes of The Neverending Story. It's as if this is not a photograph but a painting. I really like this image and will be adding it to my portfolio I think.
Here is a pretty sun over the lake picture from the top of Buffalo Point. As you can see there was a fire on the other shore. Never did see anything on the news about it, must have gotten it under control pretty quickly. The hike for Buffalo point is relatively short (0.4 miles one way) but it's steep and there is a small, very scary part where you have 2 feet of trail, cliff to your right, sheer, ROCKY drop off to your left, and (at least this day) high winds blowing you around. There was a moment that I was literally scared stiff and couldn't move.

And finally a sunset as seen from Bridger Bay. What better way to end a wonderful day trip?

Overall, this was a great day-cation. It was a 30 minute drive from my house, but halfway across the cause way it's as if you are transported into another world. Mostly unmolested by man. It really doesn't seem like you are in Utah anymore, rather a beach front trail somewhere along the coast. The weather was amazing; particularly considering it is early March. There were many more trails we didn't get to this time, but I think we will do it again. I might even consider camping out there.

Final rating: 9 Squirrels out of 10. And this is only because of the entrance fee.
Posted by

Random Rambler
at 12:40 AM
No comments: